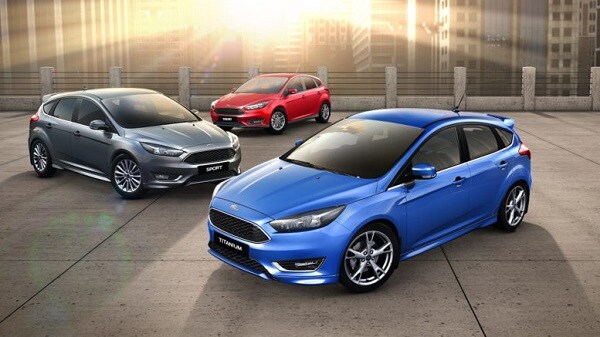 The 2017 Ford Focus is the seventh model year of this compact's third-generation, but it's hard to believe it's been around so long when you look at it. There used to be hatch and wagon versions until the second-generation came to an end, but since then the Focus has been offered as a coupe and four-door sedan. However, the launch of the third-generation saw the end of the coupe as the Focus became more standardized around the globe, so now we still have the four-door sedan but the hatch has now been made available again here. The good news about that is it means we now get the sensational RS performance model that's always only been a hatch.
Depending on how you specify your 2017 Ford Focus it really can be anything you want it to be, from relatively inexpensive and economical to a family shopper to a well-equipped, stylish and comfortable car for the daily commute, or even a tire-smoking hooligan of a hot hatch.
All this incredible diversity and versatility is possible thanks to the ten different trims currently on offer, although some are really the same trim but divided between hatch and sedan variants. The entry point to the 2017 Ford Focus range is the S model that's only available as a four-door sedan. From there we go up to the SE, SEL and Titanium trims that can all be had in hatch or sedan body styles. Then things start to get very exciting indeed with the performance-orientated ST, and then we have the Focus Electric for those wanting to be more environmentally friendly. Last up is the simply incredible, awesome and long-awaited high-performance Focus RS, which has to be experienced to be believed.
The standard powerplant for the majority of Focus models is a 2.0-liter Ti-VCT inline-four producing 160 horsepower and 146 lb.-ft. of torque, but there are three others if that's not quite what you're looking for. There's a choice between a six-speed manual, a six-speed automatic and six-speed automatic SelectShift transmissions, depending on the model selected. The SE sedan and hatch models offer an engine upgrade option, but it's not a more powerful version of the standard 2.0-liter as might be expected. In fact, it's actually a much smaller 1.0-liter three-cylinder unit. Don't dismiss it though, as it's the multi-award winning 1.0-liter EcoBoost that's been lauded by almost everyone who's reviewed it ever since its launch. Despite its diminutive proportions it still develops a very useful 123 horsepower and 125 lb.-ft. of torque, and it needs to be experienced to be believed. The third engine in what could be considered as the regular part of the range is a 2.0-liter EcoBoost four-cylinder, which puts 252 horsepower and 270 lb.-ft. at your disposal, but it only comes in the more performance focused ST models.
That fourth engine previously mentioned is a 2.3-liter EcoBoost that propels the Focus RS, but that's a model that really does deserve looking at in isolation from the rest of the Focus family.
If fuel economy is a concern you're not going to be disappointed by the 2017 Ford Focus in any way, especially as even ST models get good ratings. The 1.0-liter EcoBoost is unsurprisingly the fuel economy star of the lineup, and when mated to a manual transmission it's rated by the EPA at 30 mpg in the city, 42 mpg on the highway and 35 mpg combined.* The naturally aspirated 2.0-liter is also impressive at 27/40/31 mpg with the six-speed PowerShift automatic, while even the 2.0-liter EcoBoost in the ST is nowhere near a gas-guzzler with 22/31/25 mpg with the six-speed manual.
*All vehicle mileage based on 2017 EPA mileage estimates. Use for comparison purposes only. Do not compare to models before 2008. Your actual mileage will vary, depending on how you drive and maintain your vehicle.